Mad Hungry Spurtle Wood Utensil Set
Here is the Mad Hungry Spurtle Acacia Wood Utensil Set. The best-selling set in the world. It has four designs to meet all your kitchen needs.
As seen on TV, the set of 4 non-stick kitchen utensils, premium acacia wood finish. Specially designed for stirring, scooping, mixing, scraping, scraping, spreading, serving and more.
It's a spatula, a spoon, it's a Spurtle.
Features and Benefits
Multiple uses, replace most of your kitchen utensils
Premium acacia wood
Unique design for stirring, flipping, scratching, spreading and much more
Don't waste food
The tip adapts perfectly to the corners and edges of the pans
Naturally light
More Features and Benefits
Solid
Antibacterial
Very robust
Easy to hold
Excellent material
Very easy to clean
30 day money back guarantee. Limited time special double offer. Only $24.99 + S&H. Order now at buyspurtle.ca.
Spurtles 4-Piece Wood Utensil Set Includes
One (1) Original Spurtle
One (1) Medium Slotted Spurtle
Also one (1) mini Spurtle
And one (1) Thin Spurtle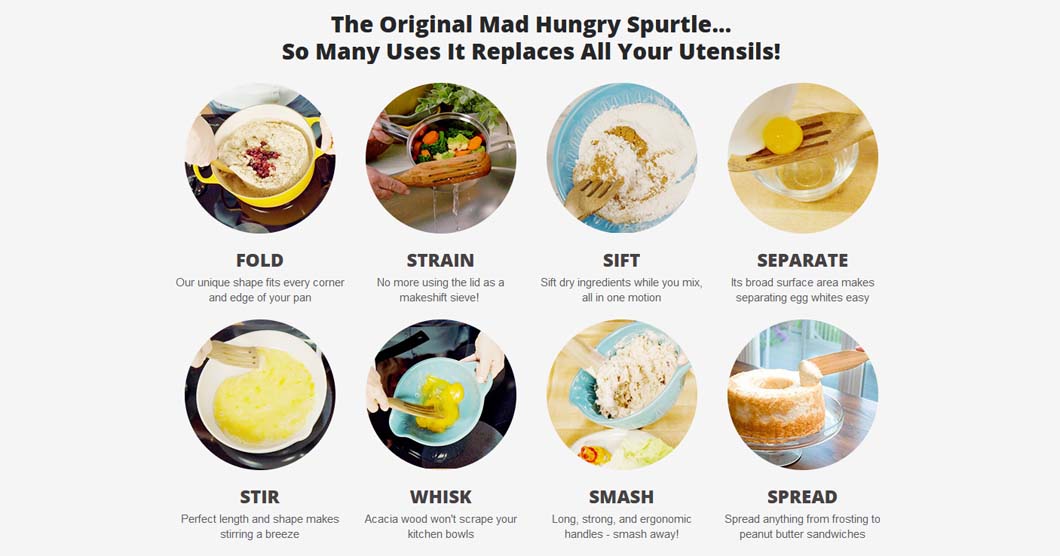 Spurtles prevent scratching pans or dishes during use. Which makes them perfect for stirring your recipes and scraping food from the edges into serving dishes.
They are easy to clean. Simply wash off with warm soapy water and pat dry.
The Spurtles Wood Utensil Set replaces all your space-consuming kitchen utensils, giving you versatile utensils for everyday use.
Declutter your counter and replace your bulky utensil set.