Emeril Lagasse Pressure Cooker & Air Fryer all in one as seen on TV
The Emeril Lagasse Pressure Cooker & Air Fryer all in one it's the Pressure Cooker that Air Fries.
Discover Healthier Cooking
The Speed of a Pressure Cooker Plus The Perfect Golden Crisp. Oil-Free.
Pressure cooker lid infuses moisture and flavor. Great for family sized meals. Perfect for side dishes and desserts. Keep warm mode. Dishwasher safe parts. State-of-the-Art Dual Lid Design Lets You Air Fry & Pressure Cook.
Up to 70% Fewer Calories from Fat Than Deep Frying
Up to 70% Faster Than Conventional Cooking
Pressure Cooking Lid. Hyper-pressurized Environment infuses liquid & moisture into food for tender, juicy results. Air Frying Lid. Turbo fan creates a whirlwind of super-heated air. Get a crispy, crunch, golden-brown finish.
44 Preset Cooking Programs. Smart Pot with Cook IQ Technology calibrates the precise time, pressure, and temperature required for every meal.
Pressure Cook to Lock in Juice & Flavor, Then Air Fry Crisp & Golden Brown. Versatile Countertop Design Replaces 12 Appliances.
Air fry
Pressure cooker
Bake
Slow cooker
Sous vide
Rice cooker
Canner
Steamer
Sauté
Yogurt Maker
Grill – Roast
Pressure Cook, Air Fry, Slow Cook, Bake, Roast, Steam & More.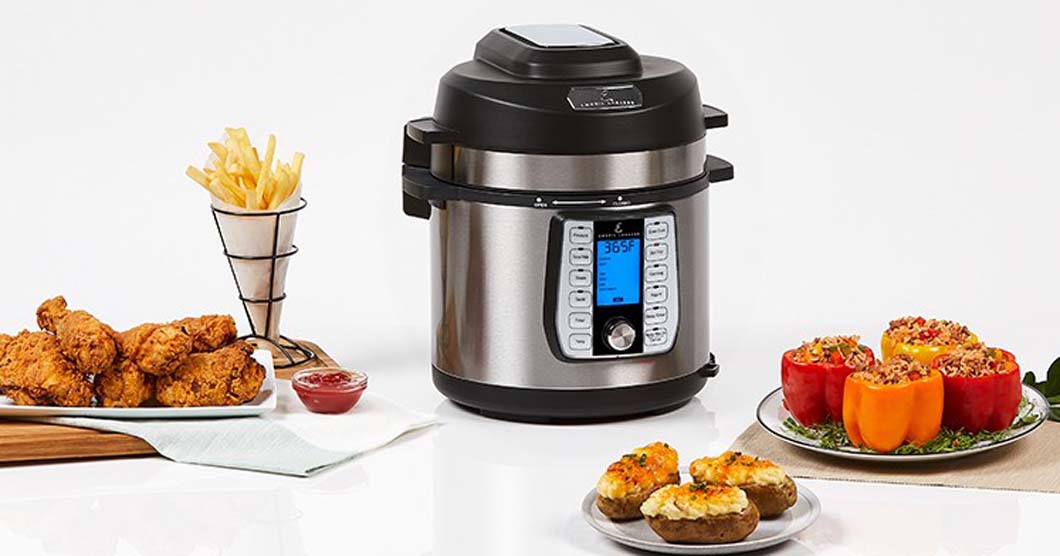 Specifications (Emeril Lagasse Air Fryer)
Colors: Stainless Steel
Sizes: 6QT & 8QT
Display: Digital LCD
Pressure Settings Low & High
Settings: 44 Pre-Programmed
Power: 1450/1550 Watts
Order now
Starting at 3 easy payments $39.99. Free shipping. Over $400 Value. Emeril Pressure AirFryer includes all this.
3 Payments of $39.99 + FREE SHIPPING
13.3"(D) x 12.8"(W) x 14.5"(H) 1450 Watts
Pressure AirFryer 6QT Unit
Pressure Cooking Lid
FREE Air Frying Lid (Just Pay $19.99 P&H)
Glass Lid
Stainless Steel Rack
Recipe Book
1 Year VIP Protection Plan
OR
3 Payments of $49.99 + FREE SHIPPING
14.1"(D) x 13.9"(W) x 15.5"(H) 1550 Watts
Pressure AirFryer 8QT Unit
Pressure Cooking Lid
FREE Air Frying Lid (Just Pay $19.99 P&H)
Glass Lid
Stainless Steel Rack
Recipe Book
1 Year VIP Protection Plan
Order Now